Picture this; you're stuck in the middle of nowhere, living alone, with only two shops and two pubs in the entire town. You look around and all you can see is rocks, red dust and flies for miles. The town consists of around 60 people and the nearest train station is a 4 hour drive away.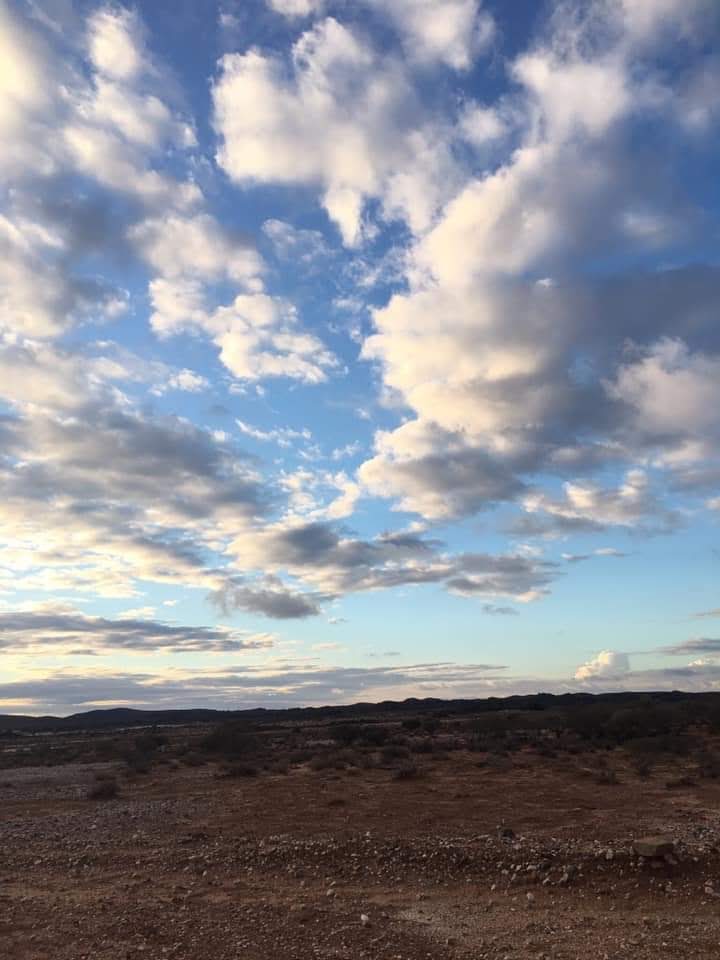 I'm currently in Tibooburra in the Australian Outback. As I reach the 5 week milestone of my regional work to obtain a second year working holiday visa for Australia, I have to honestly say that it is one of the hardest things I have ever done. There are days where I feel completely isolated. It's very easy to get inside your own head when you are without distraction and it can impact your mental health. Mental health is a topic which is gaining more awareness by the day. It's difficult to speak to friends and family back home as a result of the time difference and it's hard for people to understand what you are going through unless they've been through it themselves, and not everyone completes their 88 days in an isolated town!
To top it all off, I received the news that my beloved cat was involved in a road traffic accident at the weekend and is sadly no longer with us. I spent an entire day and night in tears. Emotions can be out of our control but remember, it's OK to have a good cry now and again! However, there comes a point where we have to pick ourselves back up.
Living in the Outback, I've become so much more aware of things that can help me to feel better and maintain a positive outlook. These are all very basic activities and most may seem like common sense. If you are ever in a similar situation, I urge you to give them a go and see how much better you feel after!
Get an early night
Have you ever noticed that when you are going through a stressful period, it always seems better in the morning? That's because sleep deprivation affects your mental health. It can be a bit of a catch 22 as your mood can affect how you sleep. Take some time out to relax. Put on some calming music, have a hot malt drink and switch off for a second. Yoga and meditation can also help you to wind down when a lot is going on in your head. Try your best to forget about everything (easier said than done, I know!) get an early one and see how much better you feel when you wake up! It's so much easier to see things from a different perspective after a good night's sleep.
Yoga and Meditation
Yoga and meditation are great tactics for switching off. You can access so many yoga classes online. Yoga by Candace has some great flows for beginners. If you are unable to access online classes, try meditating instead. Lie in savasana, focus on your breaths and try to let go of everything else around you. If there are yoga classes available where you are, even better! Sign up and let it work its magic.
Wake up early to watch the sunrise
The sunrise symbolises new beginnings. It's a new day and a fresh start. It is also very beautiful to watch. Some of the most beautiful sunrises are not easy accessible from our own homes, so take advantage of your surroundings. Whilst the sand and rock aren't good for much else, the views here can be stunning in the early hours of the morning. Seeing something so beautiful at the beginning of the day can be a game changer – for myself personally, it boosts my mood and sets me up for the day.
Workout
Exercise releases serotonin, a chemical in the brain which affects our mood. Low serotonin levels have been linked to depression. Remember, healthy body = healthy mind! A workout, no matter how short, can make you feel so much better about yourself. Even if you feel sluggish, even just getting out for a walk can make a massive difference. Check out my blog post on keeping fit whilst in the middle of nowhere for some workout tips.
Have a nice, long shower
Not only does it feel great to be squeaky clean and smelling fresh but it is also very refreshing! It can help to wash away your troubles and help you to feel like a new person. However, the temperature can vary the effect that a shower can have on our bodies. Cold showers are best for morning; they stimulate blood flow by lowering our body temperature which increases oxygen intake. On the other hand, a hot shower relaxes the muscles and can help with sleep. This can be physically and mentally soothing. Why not try adapting your shower to the time of day or your mood?
Pamper yourself
Showing yourself some self love can be one of the best things you can do. Put on a face-mask, do your nails or do your hair. These are just little things that can make a massive difference.
Listen to music
When you listen to music, the brain releases dopamine which is a feel-good chemical. Compile a playlist of songs that make you feel good – try to avoid anything dark and depressing. Set your favourite songs as your morning alarm to wake up happy or put your playlist on when you are having a bad day. My go to is drum and bass, mainly Hospitality. I promise dancing around your room like a loony will have you feeling better in no time.
Sit in the sunshine
Climate has been proven to have an impact on happiness. Remember learning about pathetic fallacy in school? It's the attribution of human feelings and responses to nature; dark clouds and rain are often used to reflect a sad scene so the contrast would be sunshine and colour to portray happiness. Sunlight increases serotonin levels which affects mood, as well as providing a significant source of vitamin D. Vitamin D is essential for optimum health, and also boosts energy levels, reducing fatigue. When travelling in hotter countries, sunshine is so readily available making it so easy to get your vitamin D fix. Life is always so much better with a tan 🙂 just remember to always apply sun cream!
Have a Berocca (or any other multivitamin!)
If you are suffering from a fairly unhealthy diet and lacking in essential vitamins and minerals, as I am, a multivitamin can help provide what is missing. Most multivitamins provide a source of energy without caffeine or anything nasty – I have also found that they take the edge off of hangovers and help to hydrate you too.
Have a healthy, hearty breakfast
When you're feeling down you may not feel like eating, but trust me on this one! Having a good breakfast helps set us up for the day and, studies have shown that skipping breakfast can affect our mood, memory and energy levels. It boosts your metabolism and stabilises blood sugar levels. My go to breakfast is a warming bowl of porridge. Oats are a great slow release energy food and are yummy too! Add some of your favourite toppings; I'm talking fruits, nuts, syrups… If I'm feeling really low, I'll add something like Nutella. I love chocolate and whilst this isn't the healthiest of options, it makes me feel momentarily happier. I'm not condoning comfort eating though – all in moderation!
Speak to friends in the same situation
The common misconception whilst travelling or working abroad is that you are having the time of your life but this isn't always the case as I've discovered since living in Tibooburra! As I mentioned previously, it's hard for people to understand unless they've been in the same situation and I feel as though I am boring people by complaining. Speak to someone who is in the same boat as you. Up until recently, I had my friend Becca here with me. I knew exactly how she was feeling and it was great to have someone to talk to who understands. There is always someone around who will listen. Remember, don't suffer in silence.
Speak to a loved one
The people closest to us may be the furthest away during hard times but try to set up a call. I am very blessed to be surrounded by some people who will be there for me no matter what and always take time to listen to me when I'm upset. It helps to get things off your chest and know that someone is listening.
Keep a journal
Since travelling the East Coast, I started keeping a journal as often as I can about my experiences and how I'm feeling. Getting pen to paper and writing down your thoughts and emotions is one way of attempting to let go of everything that is making you feel down. You can say whatever you want when venting on paper without worrying about being judged. You don't even have to look at it again – there are definitely a few things in mine that I wouldn't want to be reminded of!
Plan your next trip
Give yourself something to look forward to and take your mind off of everything that is creating negative thoughts! I am very much looking forward to Bali and it is one of the things keeping me sane during my 88 days. Looking at the different places I'm going to visit and thinking about what I'm going to do out there is a really exciting prospect. Know that there is a light at the end of the tunnel.
If you are really struggling, don't ever suffer in silence. Contact The Samaritans who work to make sure there is always someone there for anyone who needs them <3