Cameron Corner is where the New South Wales, South Australia and Queensland borders meet. The states are separated by a dingo fence which stretches at 5,614km long, originally built to protect livestock from predators – the longest man made structure in the world! It seemed only right that I should visit during my 88 days in Tibooburra; despite it being over a 2 hour drive away, it brings in a lot of tourism to the area.
I was fortunate enough to be able to join some friends who were staying in Tibooburra and had planned a trip there. The only way of getting to Cameron Corner is by car, 4WD to be precise, as the drive is mostly along dirt roads. The route is fairly scenic and can take you through Sturt National Park, depending on which direction you are travelling from. If you are planning a trip, do keep an eye on the weather as rainfall and harsh conditions can mean that the roads leading to the corner may be shut off.
One of the great things about Cameron Corner is not only that you can be in 3 states at one time, but also that you can time travel. NSW, Queensland and SA are all in different time zones during daylight savings; imagine being able to celebrate New Year three times over! 31st December 1999 saw over 1000 people visit Cameron Corner to see in the millennium three times over! Unfortunately my visit was at the wrong time of year which so I could only travel back and forth in time by 30 minutes but it was still an interesting concept.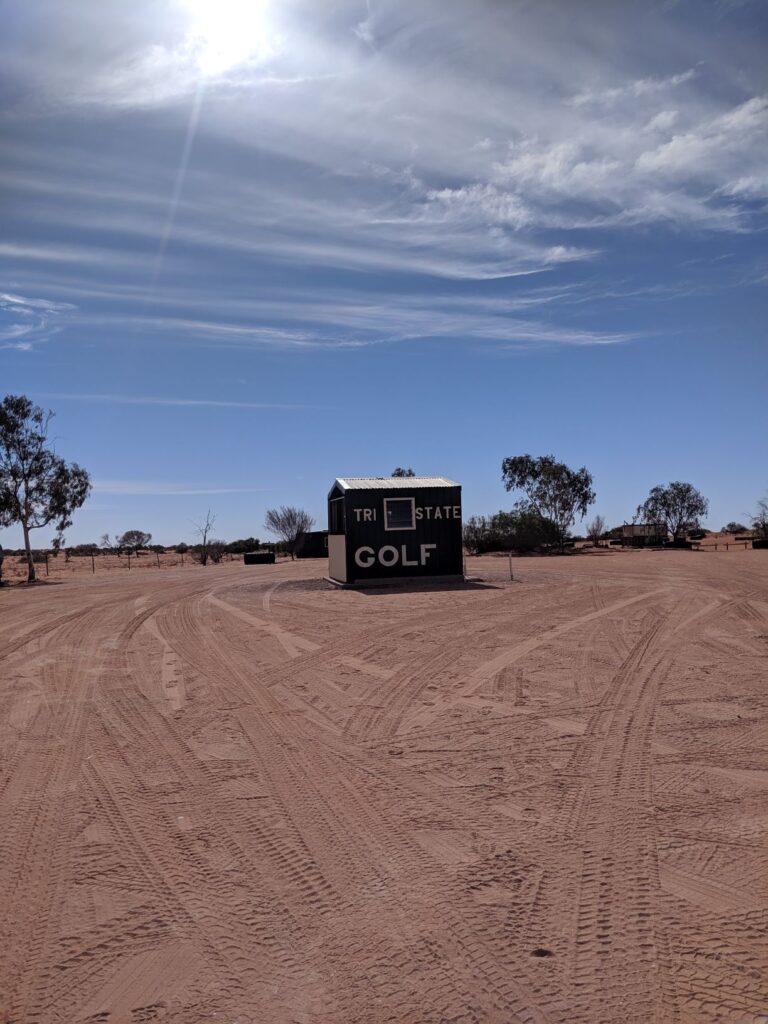 As well as Tri-State Golf which allows you to play a game of golf across 3 states, Cameron Corner is also home to the Cameron Corner Store. This is a pub / restaurant / general shop which is renowned for having the best hamburgers around! Locals from Tibooburra say that it's worth the 2 hour drive just to get their hands on these bad boys! I am not able to comment on quite how good they are exactly. As someone who is part of the flexitarian movement but prefers a more plant based diet, I was so pleased to see falafel on the menu. My diet in the outback was mostly meat so I jumped at the chance to be able to order something vegetarian for lunch. My falafel wrap was a little dry but it was a welcome change from what I would normally eat. I paired it up with chips and a glass of red and despite being in the middle of nowhere, it was affordable.
So, how about it? Next time you're in the area, why not grab a pint in Cameron Corner? It could last much longer than usual!