This summer saw Elrow Town come to London for the first time ever. My trusty unicorn and I were fortunate enough to experience it first hand. This article was written for Decoded Magazine and the original can be viewed here.
Last weekend saw the world famous Elrow come to London for its two-day Closing Ceremony. Forget your usual tech house shufflers; Elrow provides a fresh outlook on the music scene, setting out to entertain party goers with surplus amounts of glitter, confetti and other eclectic surprises. Elrow is a whole new level of fun and it is hardly surprising that tickets to the event sell out within minutes! I was fortunate enough to be able to get hold of some and, having recently sold out 9 weeks in a row at Amnesia in Ibiza, decided to see what all the fuss was about.
We made a tactical decision to arrive around 2pm. Despite what was to be expected of 15,000 people attending the event, the entry queue was fast moving and the searches were far less invasive than I have been used to previously. We entered the event in good spirits and headed straight to our pre-booked locker to ditch our coats. Pre-booking was recommended on Elrow's social media accounts and at around £12 after fees, these lockers were pretty extortionate! However, they were fairly spacious meaning it was easy to split between us, lowering the cost for larger groups. The locker company definitely had the best interests of the drunken revellers at heart; the code to the locker was firmly attached to a member of our team on a wristband and off we went!
Eats Everything headlined at 1pm so we headed over to the Singer Morning stage to catch the tail end of his set. The stages were based around Elrow's many themes; Singer Morning is described as an attitude and was visually represented as a mad house. It was hard to believe that there were 15,000 people in the venue considering the amount of space there was on the dance floor! Streams of confetti filled the air and we partied alongside what appeared to be giant sea creatures, seemingly moving to the beat. With the Singer Morning stage being open-air, we were incredibly lucky with the weather.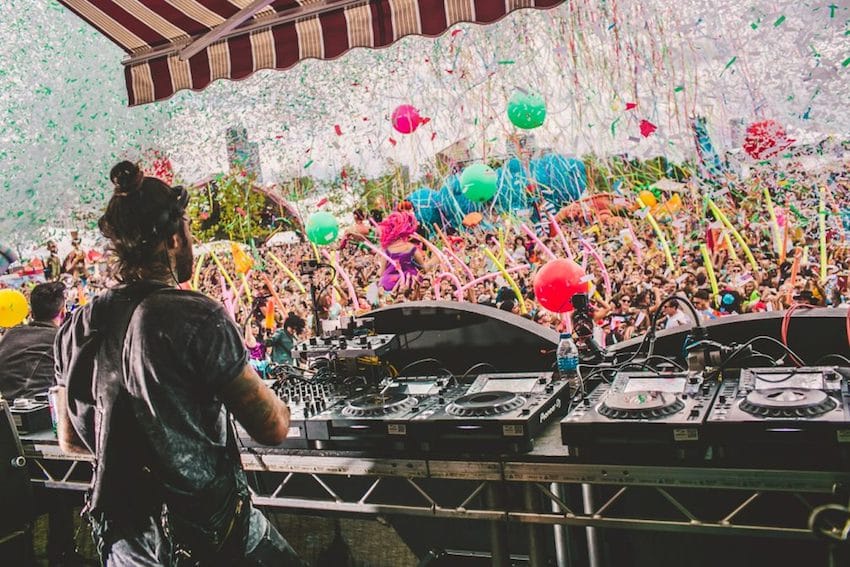 Just in case we did encounter a downpour, the El Rowcio stage was undercover. The El Rowcio theme was influenced by all things typically Spanish, laden with hanging mascots which included bulls and prawns. It did not disappoint! Here we found ourselves raving amongst giant flamenco dancing puppets whilst the crowd around us waved inflatables and noodles in the air.
It wasn't just about the music! Elrow Town boasted Olympic themed challenges and a fancy dress parade with prizes awarded to the best costumes. In true Elrow spirit, my friend and I arrived fully kitted out in costume hoping to take part but unfortunately were unable to find it. What was most unique about Elrow Town was the Singer Games Area which included human foosball and an inflatable "challenge" where two people raced through a bouncy castle type obstacle course. Under the influence, we thought it would be a great idea to take part in the challenge and joined the queue but were then told that the challenge was closed due to people taking part being drunk. Slightly confused as to why this was an issue at this type of event, we moved onto the human foosball. This real life version of table football saw intoxicated people strapped to a horizontal pole in place of the usual static players. Obviously, this led to absolute chaos but ended up being one of the highlights of Elrow Town, intensified for me by being on the winning team!
Another focal point of the event had to be Jamie Jones. He headlined last from 8pm and played the best set of the event. We partied at the main stage until the event ended at 10pm with my only criticism being the early finish! Commendations to Elrow for redefining fun, out raving! It was an incredibly well-organised event with outstanding DJs, fabulous production and minimal queues throughout. I can't wait for the next one!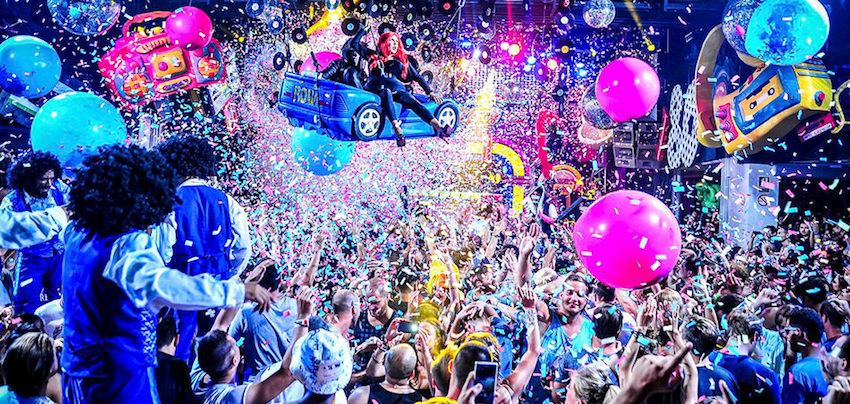 #London #DecodedMagazine