This article was originally published by Decoded Magazine. View it here.
Despite the early arrival of the April showers, my Easter weekend was certainly not a washout! Hospital Records brought the party to East London on Bank Holiday Friday for their second ever Hospitality in the Dock. The grade one listed Tobacco Dock played host to some of the most loved names in the industry for this spectacular celebration of the drum and bass music scene.
From the moment we left the house to the moment we arrived at the venue, the rain did pour! We must have arrived at peak time but the event staff at Tobacco Dock did a great job of getting everyone inside and out of the wet as quickly as possible. Tobacco Dock is an outstanding event space but there is one thing I really dislike about attending events here, tokens! There is always a huge queue on arrival for drinks tokens which we stupidly forgot to take into consideration before leaving. That and the fact that if you aren't too drunk to remember to return any unused tokens afterward, there is also a huge queue at the end.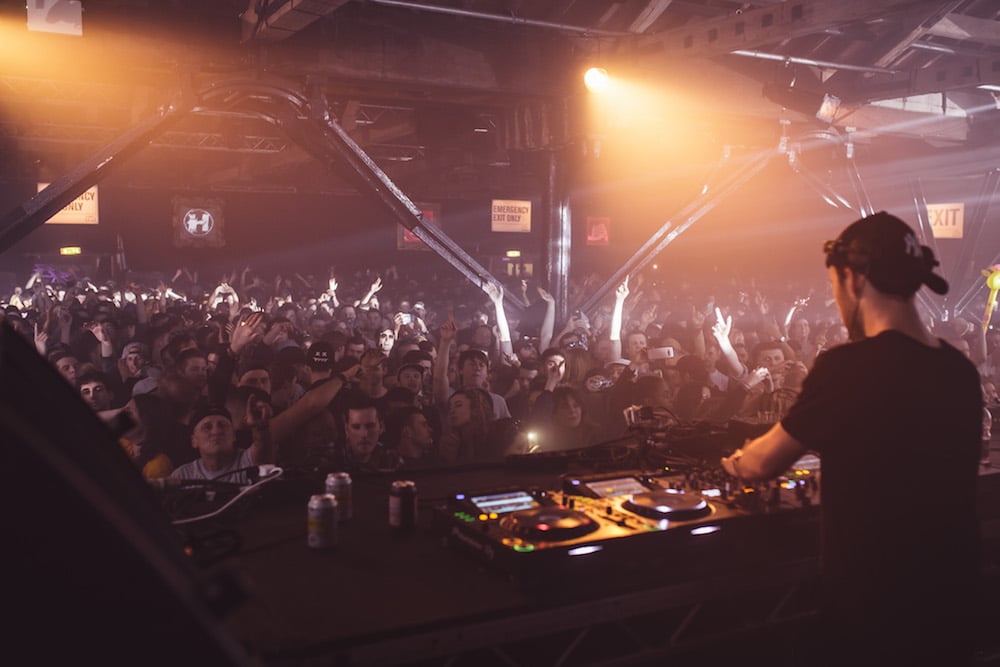 One thing that did surprise me about the lineup was that Logistics clashed with Nu:Tone albeit that they usually play together as Nu:Logic. When we arrived we did to try and catch Nu:Tone and then some of Logistics' set after. I was pretty hyped to see Nu:Tone B2B S.P.Y playing a jungle set in The Little Gallery. Being the huge Hospitality fan that I am, I attended Hospitality in the Dock 2017 and the toilet queues were swift. This year, it seemed as though there were less loos, or that Tobacco Dock had a reshuffle? Either way, we were left waiting in yet another huge queue. We only managed to catch the tail end of Logistics set where he was celebrating the release of his 7th studio album, 'Hologram'.
The queueing drama called for me to make a strategic decision about who to see, where and when. It was such a shame that the weather made the rooftop a no-go area for umbrellaless and coatless me. The rooftop boasts amazing views, a selection of great food vendors and of course, drum and bass, but I was put off as it's open air. There were so many clashes on the incredible line up so I made the tactical decision to remain in The Great Gallery the entire time. Was this because of the horrific weather outside or was it because I was worried that I might miss Danny Byrd? I can't remember but it is a decision that I would come to regret later that evening!
The legend that is Danny Byrd put on a fantastic set as always, as did S.P.Y who followed in The Great Gallery. Both artists are always so high energy and really know how to work a crowd!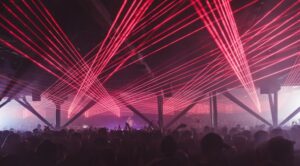 Metrik delivered as always. The crowd came alive when he played the S.P.Y remix of his track "We got it". Metrik's hits, "Chasing Sunrise" and "Freefall" were also dropped throughout. He even included a cheeky bit of Pendulum! The rest of the evening was a blur which is probably something to do with the 8 hours of drinking that took place beforehand.
I do know that I missed Etherwood Live who closed in The Little Gallery. I have been meaning to see Etherwood again since I first saw him at Bestival in 2015. For some reason, he is always one of the first to play at every event I go to and because of this, I always miss him. As I had decided to remain in The Great Gallery the entire time, I missed him again and was absolutely gutted. The moral of the story is not to remain in the same room for the entire event as you miss out on seeing so many DJs and also the different vibes that each room has to offer. However, I did see Kings of the Rollers instead and I had a great day/night all the same; I have yet to have a bad experience at a Hospitality event because the music is just so damn good!
As unfortunate as missing Etherwood was, it gave me the perfect excuse to purchase my Hospitality in the Park ticket immediately. Next time I will make sure I see Etherwood Live!
Hospitality in the Park takes place on 22nd September 2018.
Photography by Jake Davis
#London # DecodedMagazine