I wrote this article back when I was still in Bali, in July 2019 and have finally got around to sharing it. Just as an fyi, I've been a mainly plant-based, vegetarian ever since 🙂 …
---
Having landed in Bali in the early hours of the morning, and after my meat-a-thon in the Outback, I was in real need of a pick-me-up. I was both hungry and bloated, craving something that I hadn't eaten in a very long time; fresh fruit! Naturally, I prefer a predominantly plant based diet and I love to try vegan foods. As well as being nourishing and energising, the vegan diet is also the most sustainable. Considering the state of climate emergency which we are currently in, a vegan diet could be the "single biggest way" to reduce your environmental impact on the earth. I had seen Kynd Community vegan cafe on Instagram, and could not wait to check it out during my stay in Bali.
The café opens at 6am which was perfect for my jet-lag. I decided to walk from where I was staying at the In Calm Hostel, Canggu, to help relieve my bloating from the flight and set me up for breakfast. The walk was just under 2 hours along the busy Balinese streets. I definitely would not recommend it as the best mode of transport; there aren't many established footpaths and the traffic is crazy! I realised this about an hour in but continued walking anyway, taking in the new surroundings and admiring the scenery.
I arrived at Kynd, realising I was actually on the wrong side of the road. This may not sound like an issue but you can be waiting for hours trying to cross the road in one piece, in Bali! This proved to be no issue though as the guards outside stopped the traffic and blew their whistles so that I could cross safely. I felt like a celeb.
The café itself was an Instagram dream. A pink haven, full of wall art containing positive quotes such as "hello sunshine" and "another day in paradise", as well as neon lighting, and a cute bar. The waitresses were all smiles and very friendly which was great to see, especially as they were already so busy before 8am!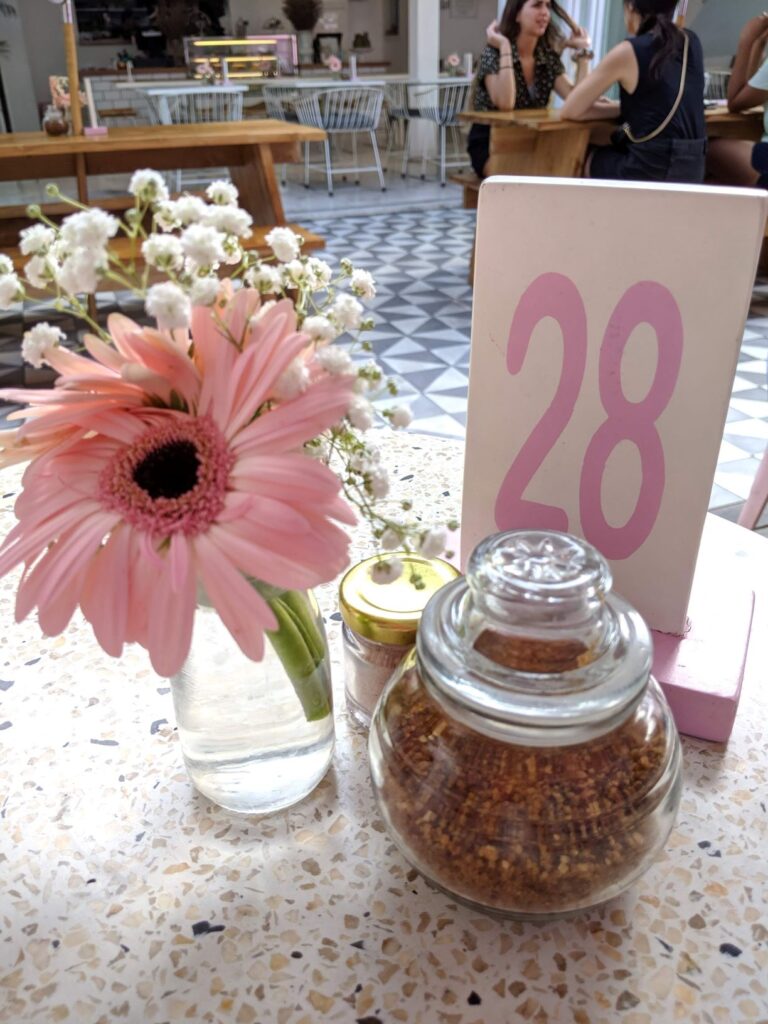 More often than not, I have already chosen my order ahead of my arrival at a restaurant. However, there was so much choice here that it took me FOREVER to decide. They had everything from coffees, teas, iced coffees, juices, waters and healthy lattes. I was also slightly tempted by the cocktail menu. Now, I'm never one to judge and you'll never hear me say that it is too early for cocktails but on this particular occasion, I decided to keep it clean. I'd been craving a matcha latte since my time in Tibooburra but I could not resist when I saw the Pink Chai! Pink to fit in with my pink surroundings, this chai latte got its colouring from the addition of beetroot. Don't be put off though, no beetroot was tasted!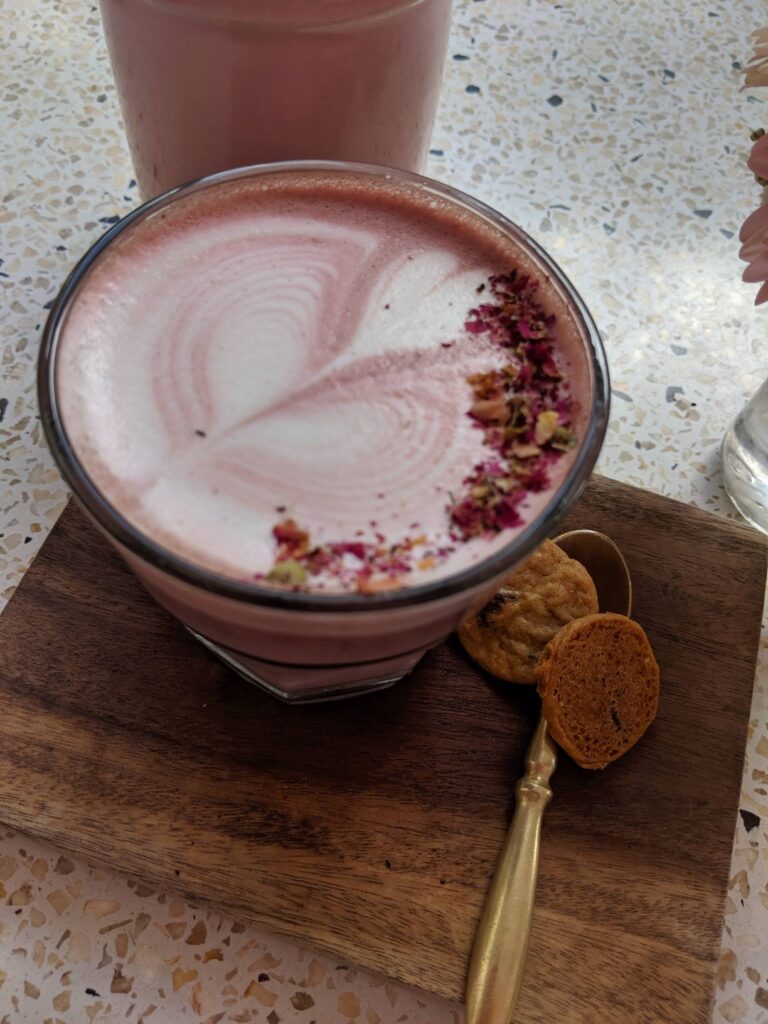 The presentation was beautiful. The latte was served with hearts in the milk froth, and came with two miniature vegan cookies. A nice touch and incredibly tasty. You would have no idea that they were vegan with their soft, chewy consistency!
They had a great variety of breakfast foods on offer too, both sweet and savoury. The waffles, tofu scramble, and pancakes all stood out to me but as it was my first time visiting, I wanted to try one of their insta famous smoothie bowls. They write anything you want in fruit (up to 8 letters) so I personalised it with my name. I opted for the Green and Grind bowl; a mixture of blended banana, mango, spinach, flax, maca, spirulina and coconut water, topped with island fruits and home-made granola.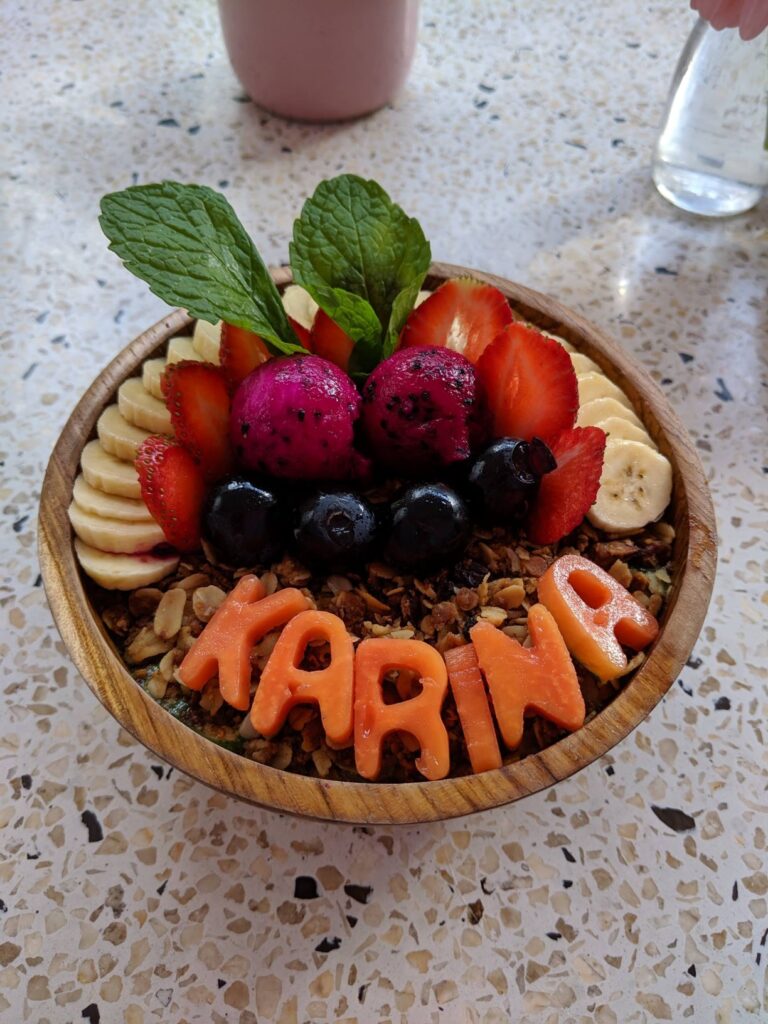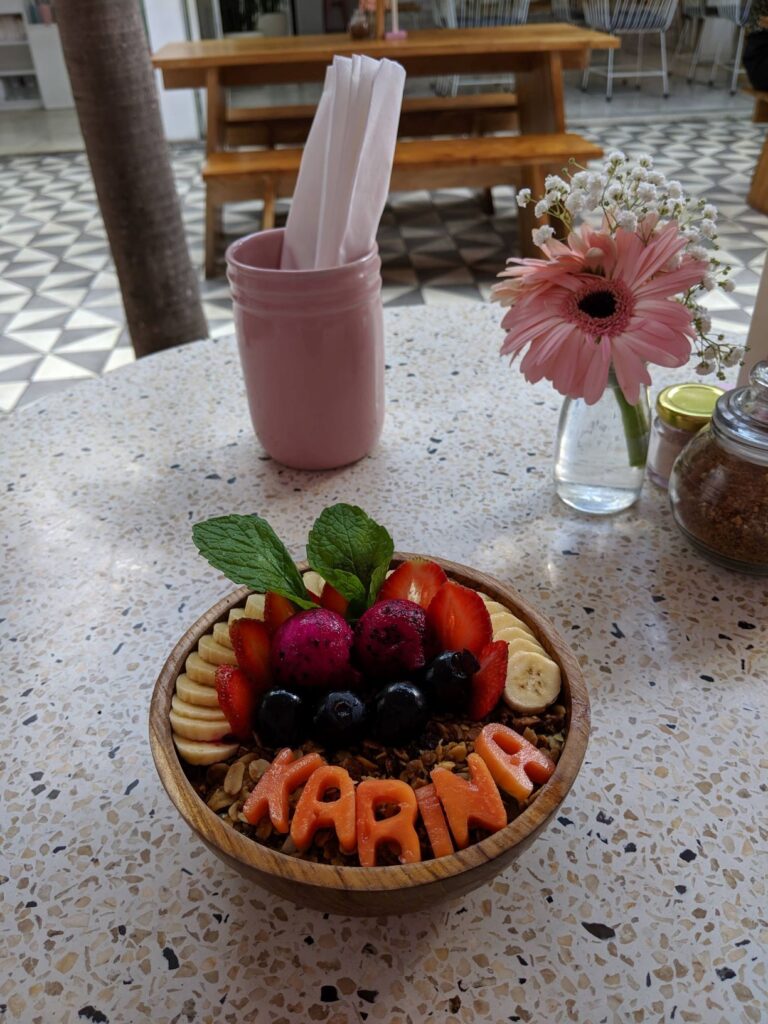 The bowl was just as beautiful as expected and came topped with more banana, strawberries, dragon fruit, blueberries, mint leaves, and of course, my name! It was extremely colourful and the taste wasn't compromised. The granola was nice and crunchy with raisins, something I was not allowed to eat whilst in the Outback (my employer hid pretty much everything from me except porridge oats and bread)! You could really taste the banana and the spinach was obviously what gave it its deep green colour. I really was eating the rainbow and it was great to know that I was getting so much goodness back into my body in one hit. I did feel kind of guilty eating my name but all good things must come to an end, and I polished the whole thing off with nothing to spare.
I relaxed in Kynd a while longer as I really enjoyed the vibe in there and took the opportunity to try and catch up on some writing. By Bali prices, Kynd isn't particularly cheap. However, it's well worth it for great tasting food which is also ethical. The Give café in Canggu is also part of the Kynd Community and completely not for profit. I will be sure to visit again during my time in Bali, and pop into their vegan ice-creamery next door for afters too!