This year is officially the 10th birthday of Winter Wonderland; a Christmas hub which arrives annually in Hyde Park for the festive season. Winter Wonderland combines a collection of fairground rides, market stalls and entertainment, open to all. This year the festival plays host to a number of shows such as 'The Nutcracker On Ice', 'The Sooty Christmas Show', 'Cirque Beserk' and 'Zippo's Christmas Circus'. Christmas usually costs me a small fortune in parties and gifts so I tend to try and keep my Winter Wonderland visits as cheap as possible. As a result, I've never had the opportunity to watch any of these performances and so my view of the event is quite limited.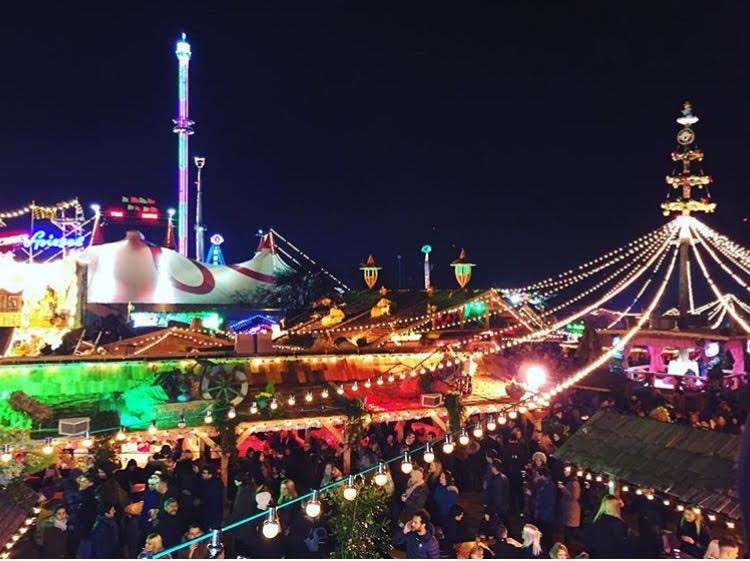 This year, a group of us came together from near and far (of orient are), and decided to make the trip more memorable. We booked tickets for Bar Ice over a month ahead to find that the only available time slot for a group of 6 was 1.20pm. Understandably for some people this would be a little early to crack on with the drinks, but in my opinion the earlier the better! Tickets were £15 each and included a cocktail of our choice from a set menu.
We arrived at Bar Ice and were each handed hooded garments for warmth and a sticky set of Pina Colada scented gloves. We entered the bar via a tunnel, which reminded me a little of the inside of a fridge, and joined on to the back of the bar queue. This ate into around 10 minutes of our 20 minutes allotted time.
The set cocktail menu offered a good choice of drinks. As well as a classic Pina Colada (which explains the gloves!), the Spiced Mojito and Passion fruit Martini also caught my eye. As a huge fan of the Porn Star Martini I opted for the passion fruit cocktail which, like all the others, was served in an ice cup. There is also the option to purchase more drinks including a variety of flavoured Smirnoff shots. At £4 each, I chose peanut butter flavour which tasted mostly of vodka with a subtle aftertaste. My friend went for Jalapeno which speaks for itself really (gross!). The ice cups were fairly small and limited in volume. I think this is possibly to do with the time slots as I couldn't see the drinks lasting anyone longer than 5 minutes!
The surroundings were nice. Everything was sculpted from ice including the chairs, tables, bar, and there was even an ice piano. It was a good experience although I wasn't overwhelmed. It's definitely something to do at least once in your lifetime but you might get better value in an ice bar elsewhere.
Drinks downed, we decided to purchase some fairground tokens and head over to the Munich Looping; the world's largest transportable roller-coaster. You can now use contactless payment to pay for some of the rides at Winter Wonderland too but we realised this too late (all tokens must be used before you leave the park so be careful not to overdo it)! We were disappointed to discover that the Munich Looping was £9pp, almost half the cost of entry to Thorpe Park! We gave this a miss and went on the Wilde Maus instead. At 7 tokens, or £7, a ride, it was closer to the price you would expect to pay at a funfair! Even the queue line for this ride was entertaining, although I was slightly worried about falling off of one of the logs steps and into the water with my Michael Kors bag containing my life (phone, wallet, keys, etc)! The ride was terrifyingly fun; it gave the impression that the car was going to fly off the track right before each turn but there were some good runs. I would not recommend this for the faint hearted though as it was quite rapid/shaky!
3 out of 10 tokens now remaining, we chose to ride the bumper cars (likely because it was the only ride we could afford). I actually enjoyed this far more than the Wilde Maus, probably because it was a more interactive ride. There is plenty more to do in terms of rides but it's all dependant on how much you are willing to spend.
What draws me back to Winter Wonderland every year is purely being able to chill in the Christmas ambience with a mulled wine or cider in one hand and a bratwurst in the other. Mulled wine is typically around £5 a cup and one of the more affordable beverages there. As aforementioned, my most recent trip was quite limited but I would usually visit the Carousel Bar, Santa Lane and take a good stroll around the Christmas Market.
Winter Wonderland is a truly magical place and is really only as expensive as you make it. It is definitely worth a visit, even just for a drink or two, to experience the festivities and get you in the Christmas spirit.
Check out the Winter Wonderland website here
#London