With Thursday nights fast becoming the new Friday for most city workers, a quick hangover fix is becoming increasingly popular for socialites such as myself. It's no secret that one of the best fixes comes in the form of carbohydrates and more alcohol, right?
With thousands of restaurants to chose from, I have made it my mission to seek out the best hangover cure in London. Obviously this means that I won't be seating myself in any salad bars, delis or Michelin star types – I'm looking for something which is substantial, tasty, affordable and offers a range of alcoholic beverages that won't make your stomach turn the day after the night before!
'The Diner' is a small chain which can be found hiding in certain areas of London. On this occasion my boyfriend and I visited the Spitalfields branch, set for 'hair of the dog' and a carbohydrate overload. And this is exactly what we got!
There was an excellent variety of drinks on offer, from the usual cocktails such as Long Island Iced Teas, to shakes of various flavours (including a whole section dedicated to the adult kind), to the usual and more unusual flavours of soft drinks. However, the wine list was very limited and the beer list also less mainstream, with none of the usual pub favourites. Instead it included mostly American beers much to my boyfriend's dismay. Being a cocktail enthusiast, I opted for a Spicy Mule; a rum based drink, similar to a Dark and Stormy but with a twist, in the form of angostura bitters!
The moment of truth really came when my buttermilk fried chicken and waffles arrived on the table. As gross as it may seem to some, the combination of sweet waffles with maple syrup and savoury fried chicken with gravy was a match made in heaven! It was perfectly complemented by coleslaw and some enormous onion rings placed strategically on top of the already towering mountain of food – this was the pile of carbs I'd been dreaming of all day and it certainly didn't fall short of expectations! My other half opted for a Yankee Pig Dog (a hotdog with pulled pork, pickles and mustard) and a side of waffle fries; another enormous flavoursome carb fest!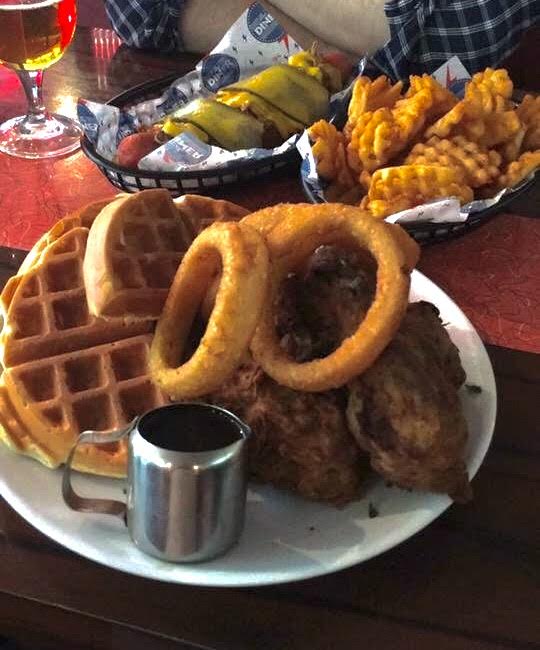 Our table was tended to throughout our stay, cocktails a' flowing, and 'The Diner' had a great, relaxed vibe about it; perfect for chilling out and recovering after a week of full-time work whilst preparing for round two simultaneously! We then decided to equip our stomachs for the night ahead and line them with milk. The hard shakes (adult milkshakes) seemed to be the perfect combination of alcohol, dessert and prevention! The Colonel Parker contains my absolute favourite ingredient of all time (peanut butter) and was delicious! The remainder of the shake that didn't fit into the serving glass was also brought to the table in the malt cup used to make it; a nice touch and which also meant we could take full advantage of the 35ml alcohol used!
The desserts looked heart attack worthy but with places to be and our stomachs lined, we had to call it a day. If you're looking for large portions of tasty, carb-heavy food, this is definitely one to visit. It's similar to TGIs but with less of the cheese and easier on the wallet.
I accomplished my mission of satisfying a sore stomach and a sore head within close proximity of my next pit stop. I would definitely return here!
The Diner is also located in Camden, Islington, Dalston, Soho, Covent Garden, Strand, Shoreditch and Gloucester Road.
Visit The Diner online here.
#London